Tandem axle truck
(3000 to 3600 US Gallon)
«ZIAMATIC HYDRAULIC QUICK-LIFT SYSTEM» FOR FOLDING FRAME TANK
Installed on the passenger side of the vehicle, this hydraulic system will allow the storage of your folding frame tank by minimizing the efforts. Three (3) different casing options are available;
Aluminum type «diamond plate»
Polished aluminum
Peinted same color as the cab
Four (4) folding frame tank model are available;
1500 GALLONS (USG)
2000 GALLONS (USG)
2500 GALLONS (USG)
3000 GALLONS (USG)
---
«SLIDE-IN» COMPARTMENT
Aluminum compartment built to suit, allowing you the storage of your folding frame tank. Up to 4000 us gallons. Three (3) different casing options are available;
Aluminum type «plain»
Polished aluminum
Aluminum type «diamond plate»
Painted same color as the cab
---
«ROL-LA-TANK» PORTABLE CONTAINER
By choosing this option, you will automatically decrease the lenght of the vehicle by a minimum of 2 feets. Stored inside the passenger side compartment, this portable tank will decrease the cost and have many advantages whose;
Can be carried by only person
Quick assembly
Portable container that can be installed by only one person in less than 2 minutes.
Can be used on a non-flat surface
Four (4) rol-la-tank model are available;
1500 GALLONS (USG)
2000 GALLONS (USG)
2500 GALLONS (USG)
3000 GALLONS (USG)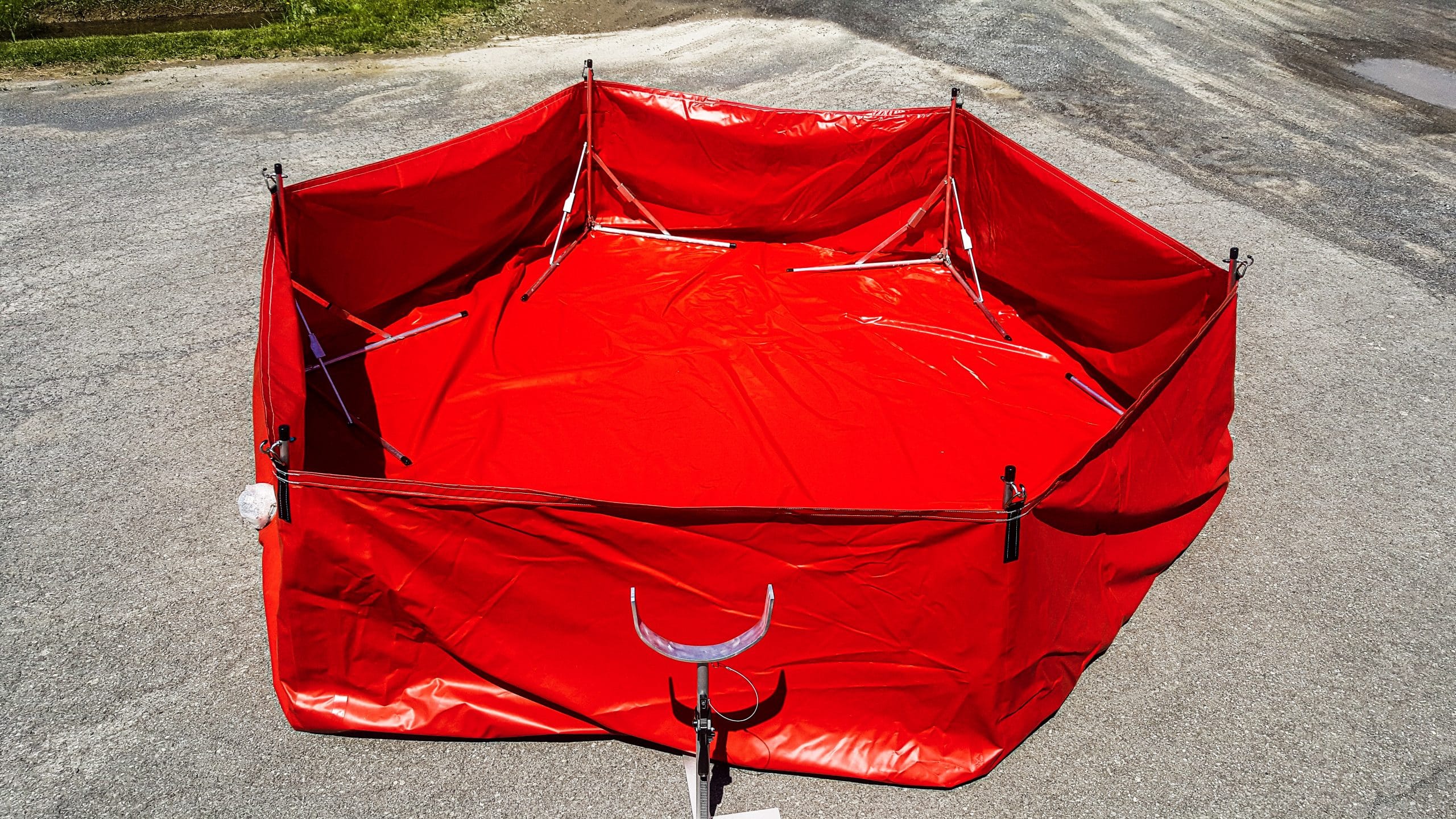 ---
PUMP COMPARTMENT
The pump compartment is located on the driver side of the vehicle. Including the next equipment.
72″ length 38″ height, 28″ depth
One (1) 4" inches pre-connect with «storz» adapters & drain – inlet/outlet with butterfly valve
One (1) 500 lbs capacity sliding-tray – built to suit according to the portable pump
One (1) prestone 21,000 BTU heating system
Three (3) LED lighting tube
Two (2) 120V electrical outlet
One (1) iota dls-30 amps battery charger
One (1) intelligent battery charger for portable pump
Electrical panel
---
C.E.T. PORTABLE CENTRIFUGAL PUMP MODEL «PFP-38HP-KHL-2D»
This high pressure / high volume pump is made to fight fire or supply water to the fire scene.
Portable fire pump built and custom modify by c.E.T., including the next options:
Ch1000 kohler air cooled engine.
2-cylinder, 4-stroke gasoline engine
12v electric start
6 gallon (22 l) detachable fuel tank
Engine start/stop button
Throttle control lever
Choke control lever
Oil control lamp
Operating panel light
Pressure gauge
Vacuum pressure gauge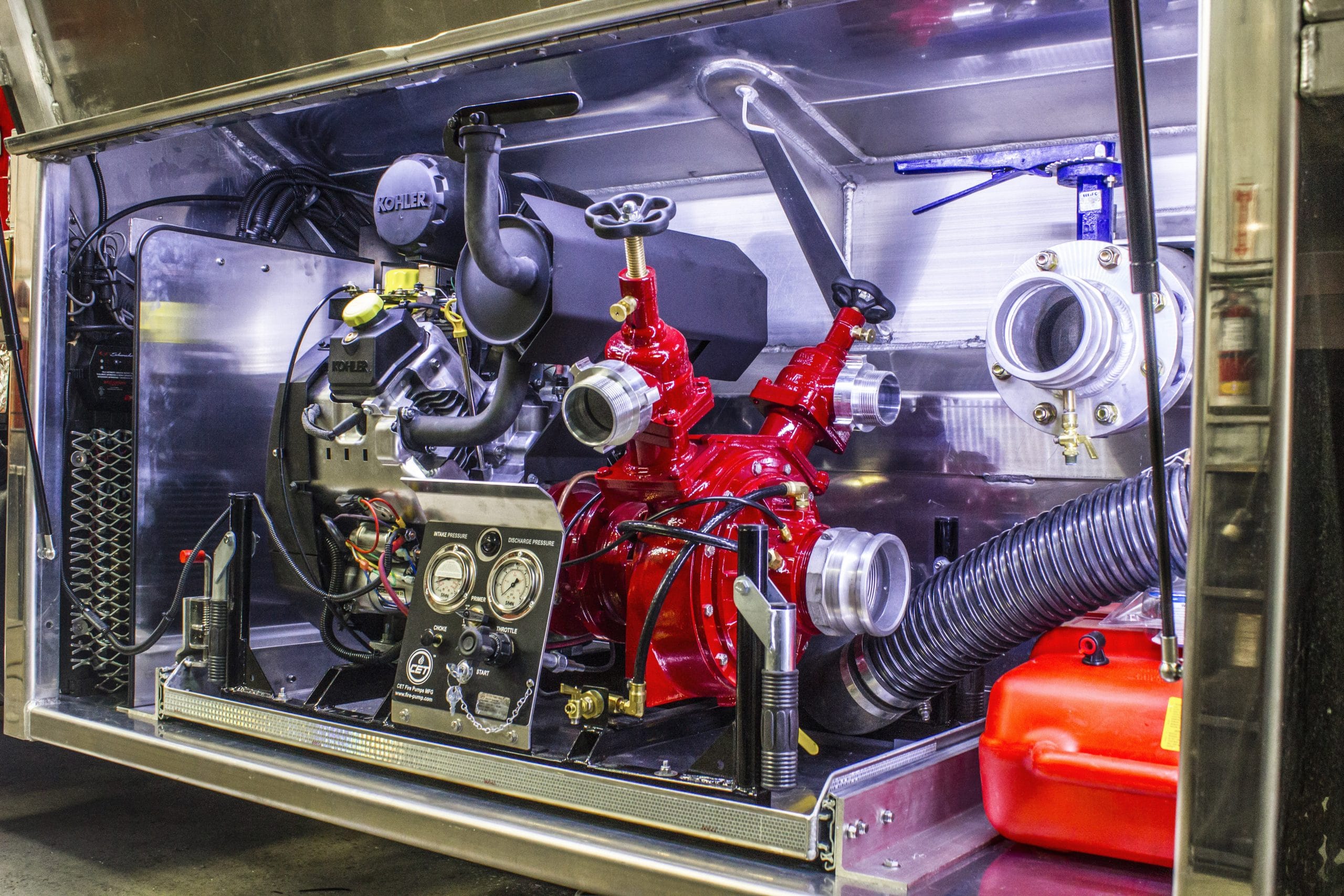 One (1) quick-connect fitting built to suit is provided in order to connect the portable pump to the tank quickly.
---
C.E.T. PORTABLE PUMP PERFORMANCES GRAPHIC «PFP-38HP-KHL-2D»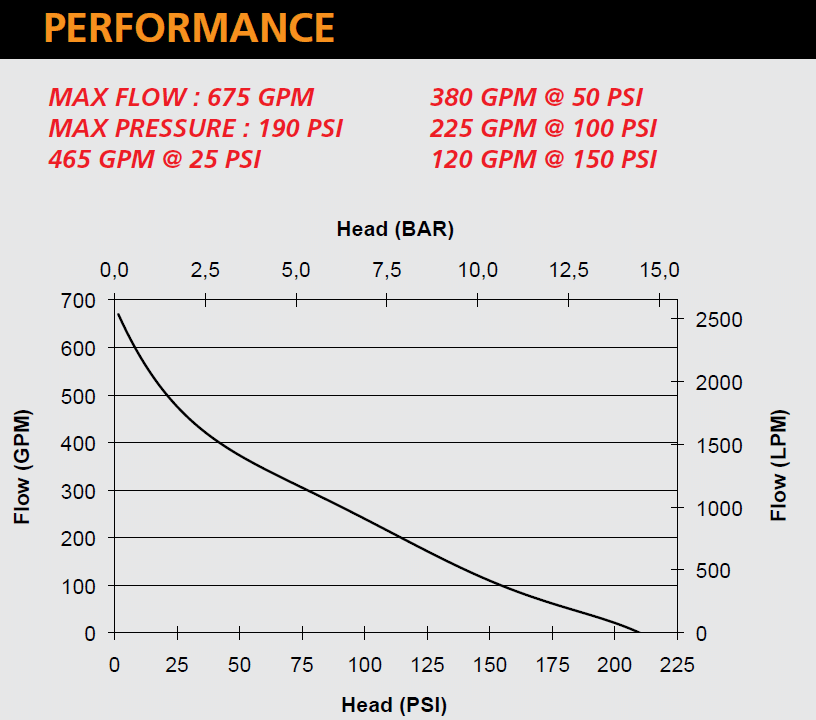 ---
GORMAN RUPP P.T.O. PUMP MODEL «03h1»
---
GORMAN RUPP P.T.O. PUMP MODEL «04E1»
---
GORMAN RUPP P.T.O. PUMP CONTROL PANEL
One (1) custom control panel including the following options;
2,5" inches valve(s)
Hale primer
Parker P.T.O. Control box
Rpm increase/decrease switch
Pression gauge(s)
---
HALE SIDEKICK P.T.O. PUMP
The dimensions of the hale sidekick pump allow the installation of the complete module inside the driver side compartment and the heating system while keeping all away from the weather.
Two (2) pump model are currently offered;
SIDEKICK APS 500 GPM (USG)
SIDEKICK MBP 750 GPM (USG)
---
PASSENGER SIDE COMPARTMENT – HOSE REEL
The passenger side compartment is usually equipped with a full size adjustable shelf if no hose reel is installed. This compartment will be customized according to your needs. Many hose reel brands are available whose;
Hannay reels
Reelcraft
Coxreels
Two (2) types of hose reel are available;
Manual
Electric
---
CUSTOM FRONT BUMPER
One (1) front bumper built to suit according to your needs.
Front bumper compartment for additional storage
Hose bed
Manual or electric monitor
Winch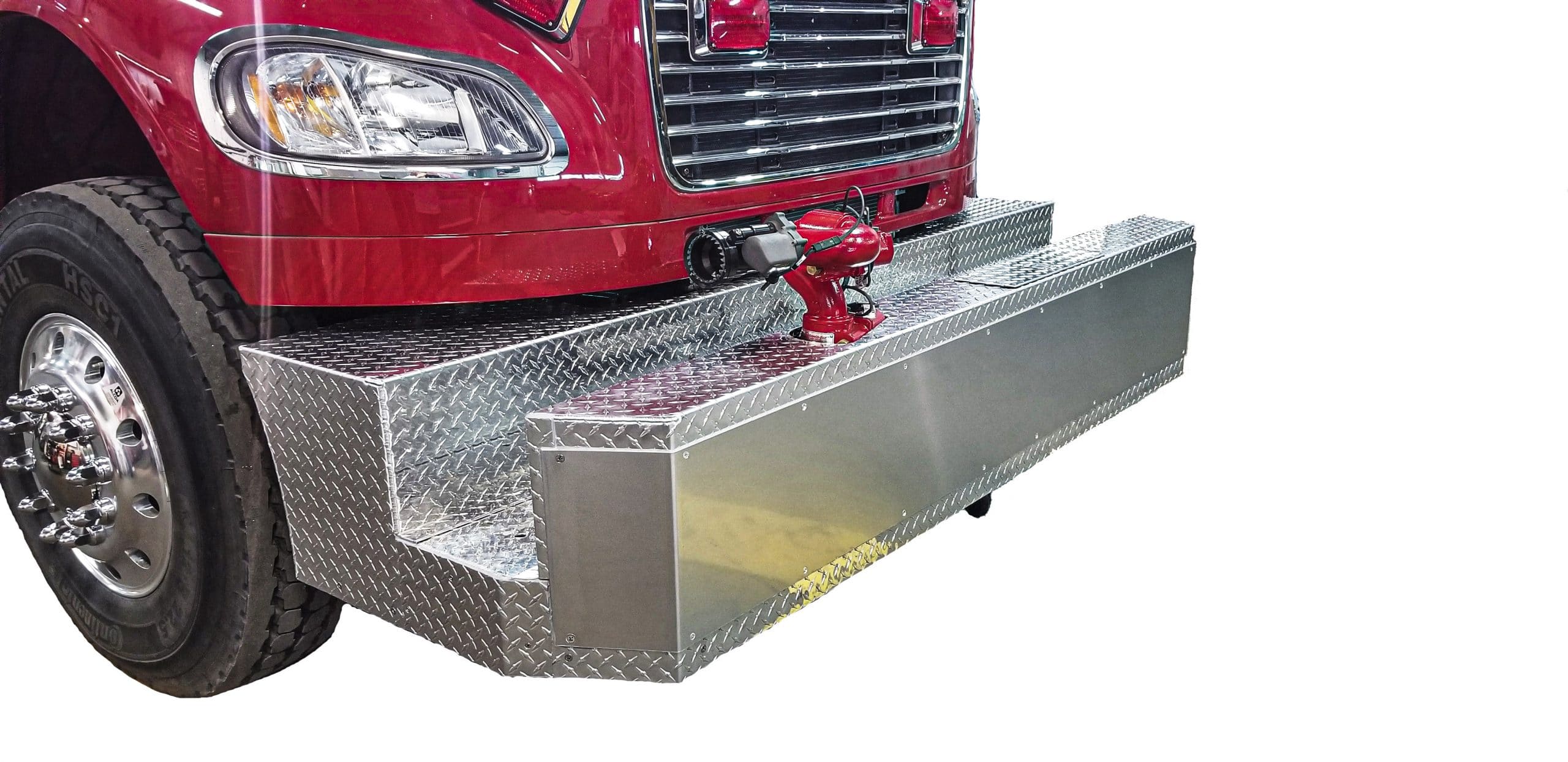 ---
REAR PIPING PACKAGE
The rear piping package includes the following equipment;
Two (2) 4" inches rear inlets with storz fittings and butterfly valves
One (1) 10" inches quick dump with manual valve
One (1) 26" inches straight aluminum extension stored below the 10" inches quick dump
One (1) 90 degrees aluminum elbow for side dump stored below the chassis on the driver side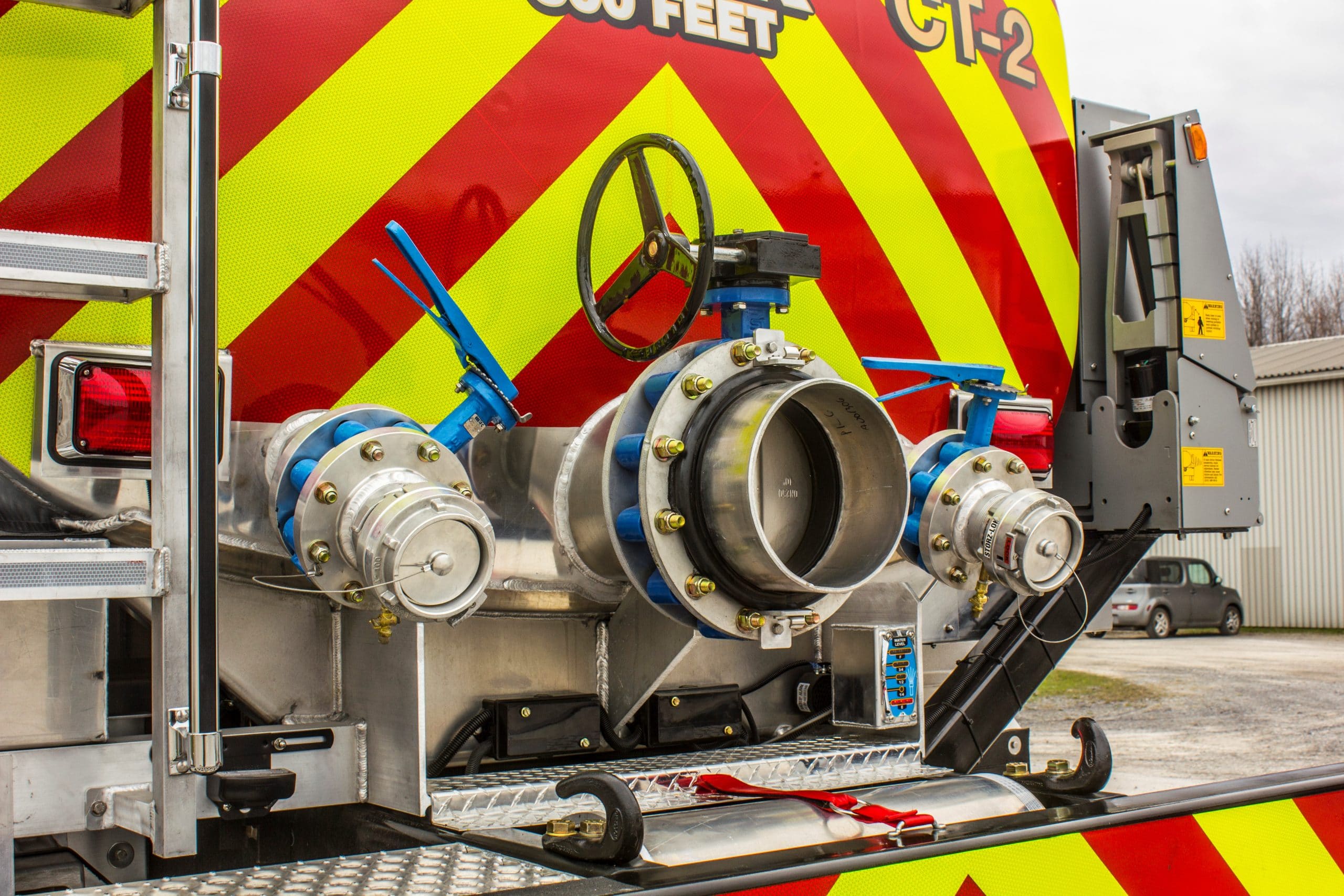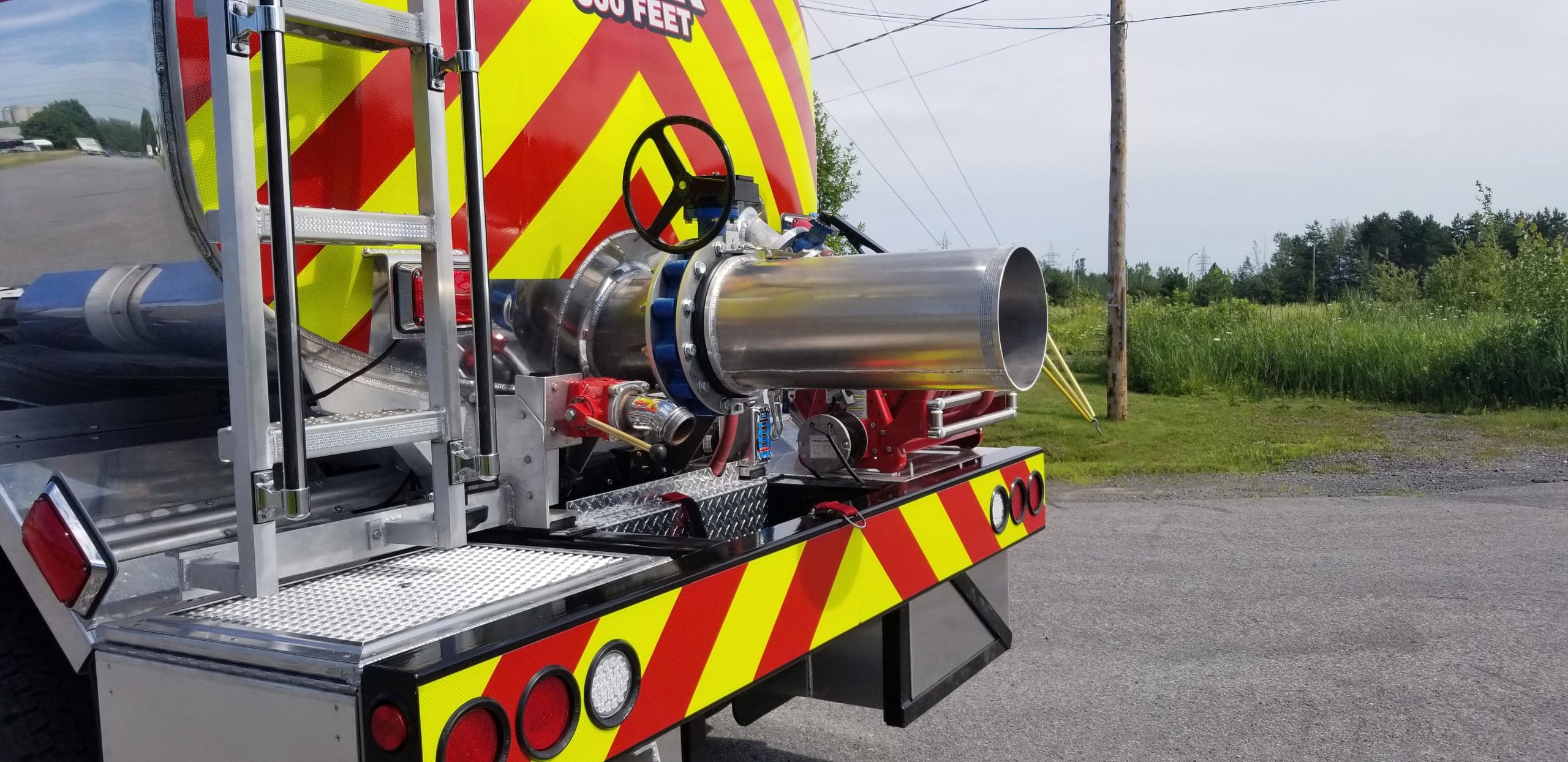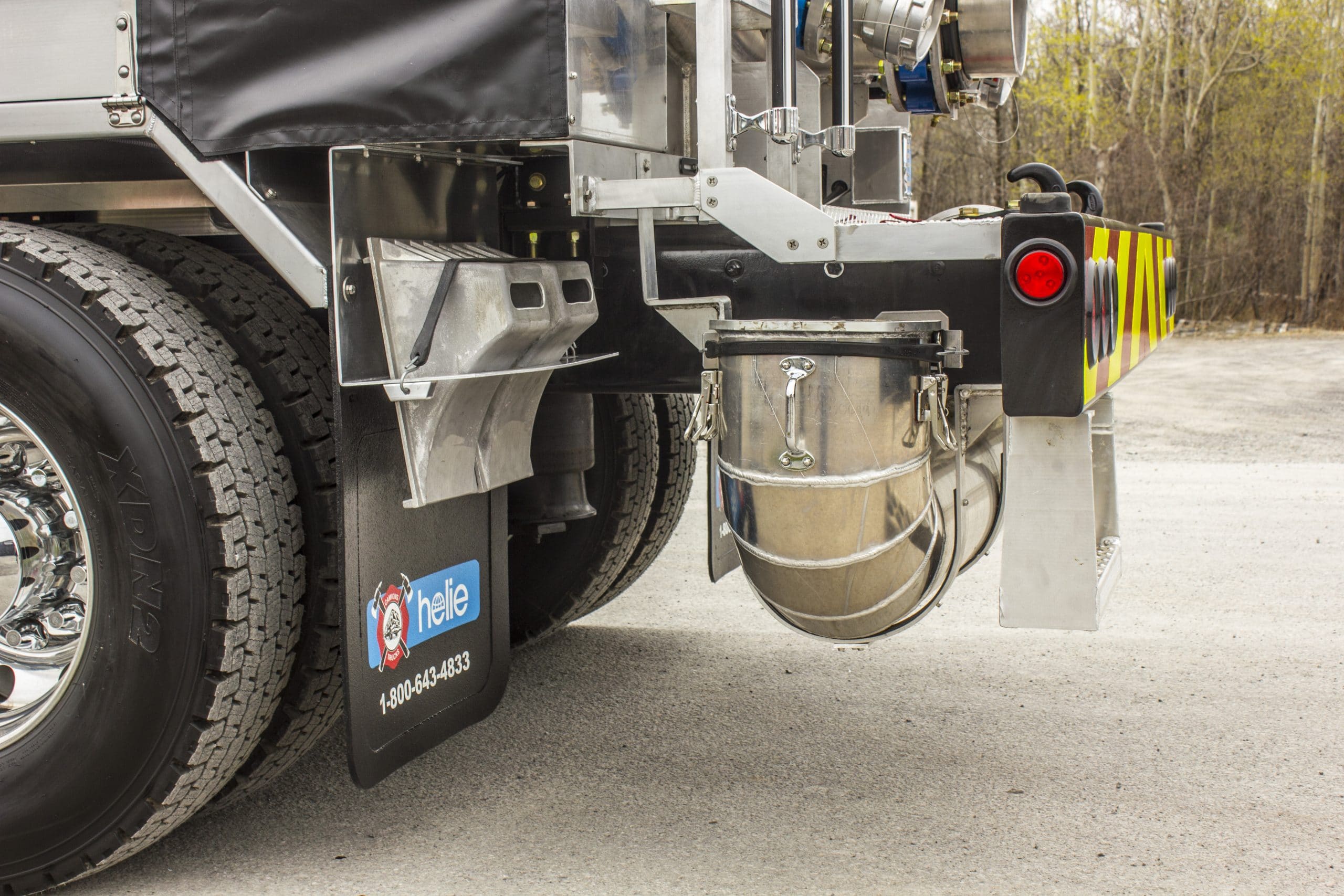 ---
«AUTOMATIC DISCHARGE SYSTEM»
One (1) air activated automatic discharge systrem which open and close the 10" inches quick dump and that can be activated with a switch from the inside of the cab or at the rear of the vehicle.
---
«NEWTON SWIVEL DUMP»
The stainless steel swivel discharge system called "newton swivel dump chute" is built for fast and efficient use. The newton swivel dump chute can be extentionnated because of the three (3) additional telescopic sections.
---
«HEIMAN SWIVEL DUMP»
Made by Heiman co, their aluminum swivel chute will be able to meet your needs at low cost.
---
HARD SUCTION HOSE COMPARTMENT
Aluminum compartment with folding door holding three (3) 4" x 10′ hard suction hose.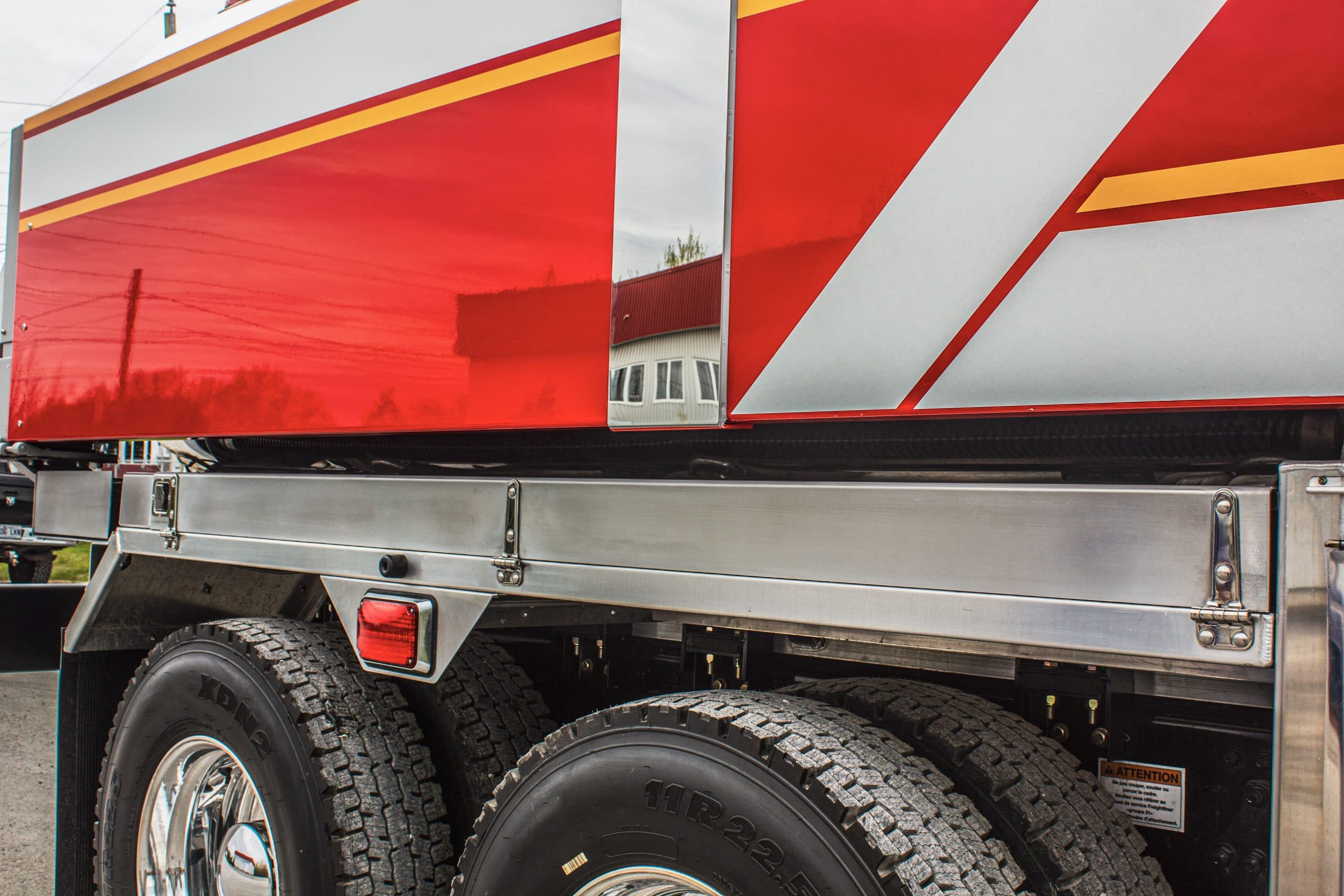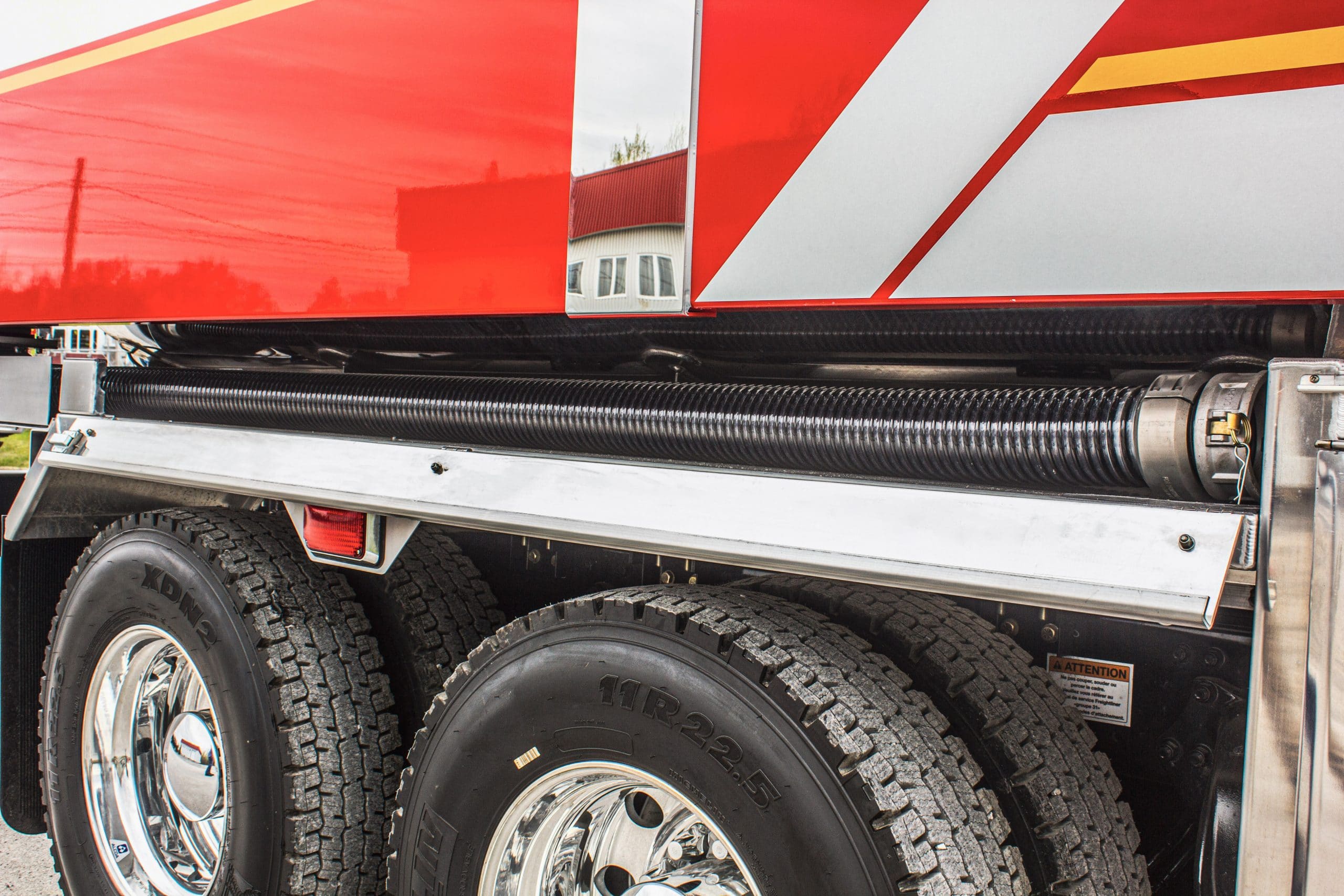 ---
HOSE BED – ADDITIONAL STORAGE
Aluminum compartment with folding door used for hose bed or additional storage area. Compartment fully covered with a waterproof tarp.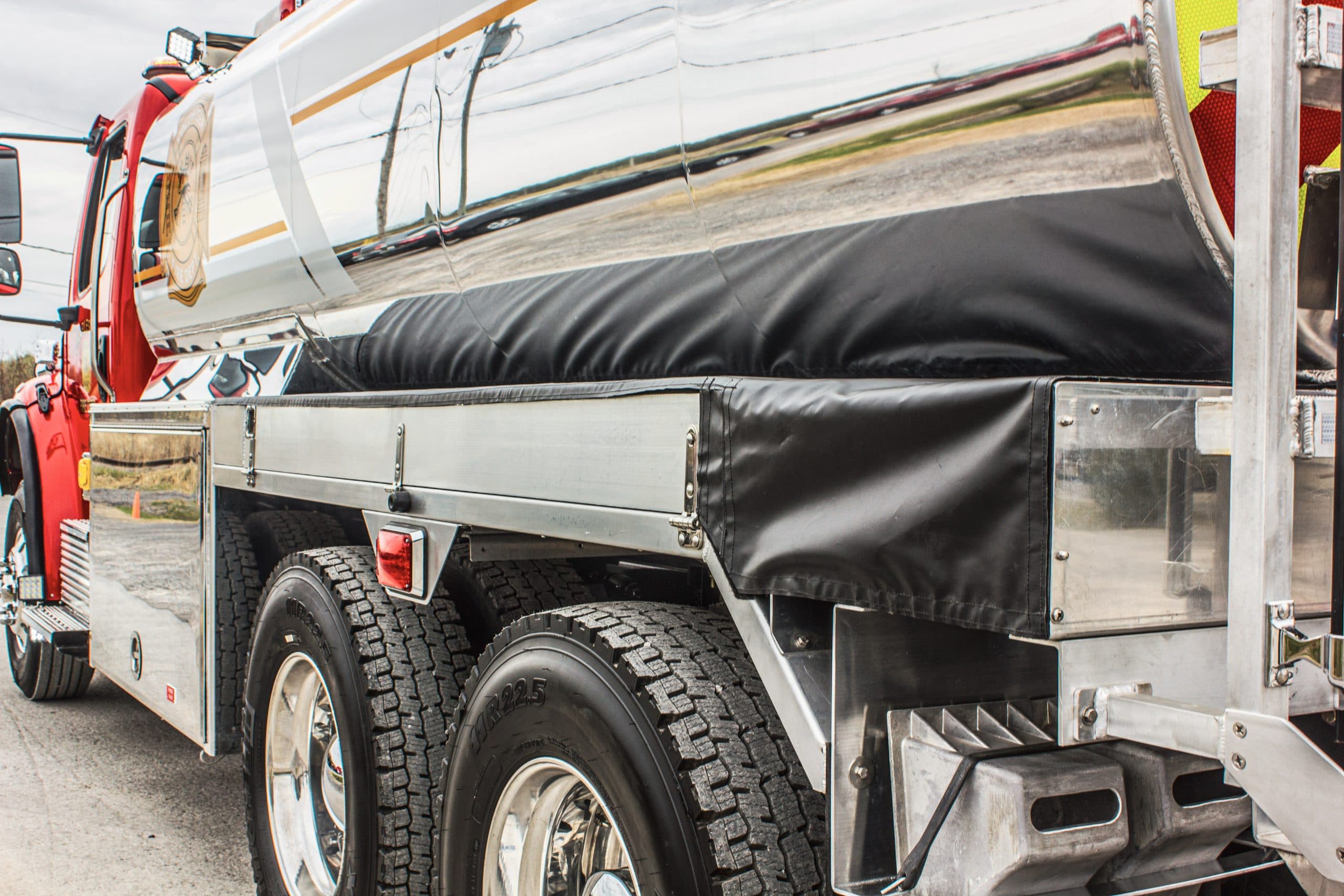 ---
ADDITIONAL REAR COMPARTMENTS
Two (2) additional rear compartments can be added with a choice of a sliding-tray or adjustable shelf. The front opening door is preferable in order to keep the maximum storage space.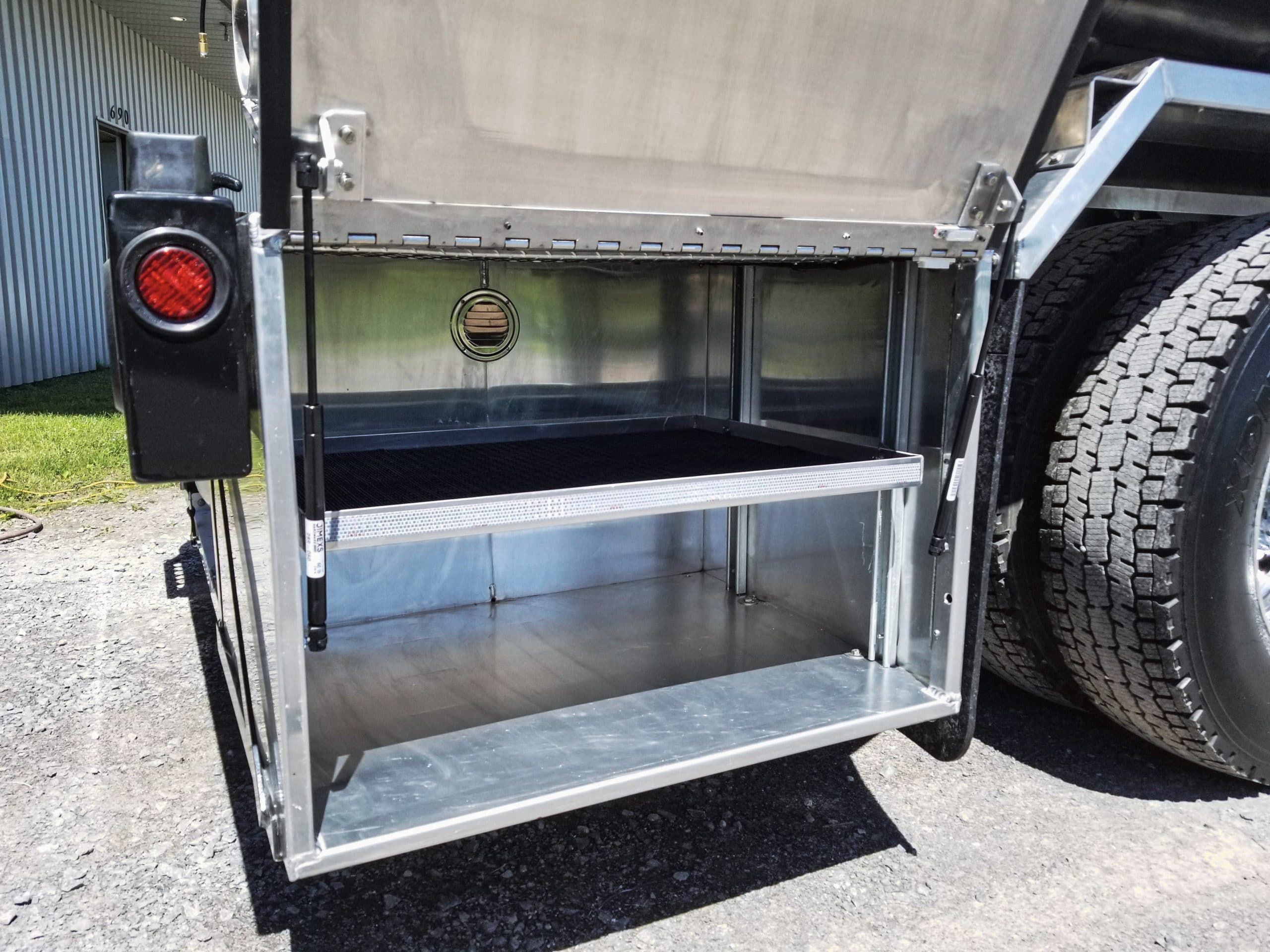 ---
LADDER RACK
One (1) aluminum ladder rack built to suit installed on top of the tank body for the storage of one (1) of many ladders. The rear support bracket make it easier to use and protect the back-up camera.
---
CUSTOM CONSOLE
One (1) custom aluminum with storage and electrical power installed between the seats of the cab.
---
«ONSPOT TIRE CHAINS SYSTEM»
The onspot system is basically a simple and very reliable concept. It is a wheel fitted with several chains that is lowered and held towards the driving wheels. When the chain wheel rotates the chains are placed under the driving wheels to increase traction.
Onspot is engaged only when needed – up to 35mph (50km/h) without having to stop the vehicle. It works whether you are accelerating, braking or in a loss of traction situation. When engaged traction is obtained in forward or reverse.
Onspot is conveniently engaged and disengaged by flipping a switch on the dashboard. It is a trouble-free and ever-present solution for avoiding delays due to slippery road conditions.
---
EMERGENCY LIGHTING PACKAGE CONFORM TO UL & NFPA STANDARDS.
One (1) whelen nfpa super led justice light bar 62''
Two (2) whelen l31hfrn super led strobes
Two (2) whelen super led scene lights series 900
One (1) tecniq perimeter light
Twelve (12) whelen super led interception lights series 600
Eleven (11) led work lights
Full led lighting in tank compartments
One (1) whelen electronic console
One (1) witness light for compartments door open
One (1) rear view back up camera cab-cam 7'' color / sound
One (1) whelen electronic siren / speaker / pa
One (1) master switch
One (1) wig-wag system
One (1) whelen sapphire control head
One (1) whelen hhs3200 module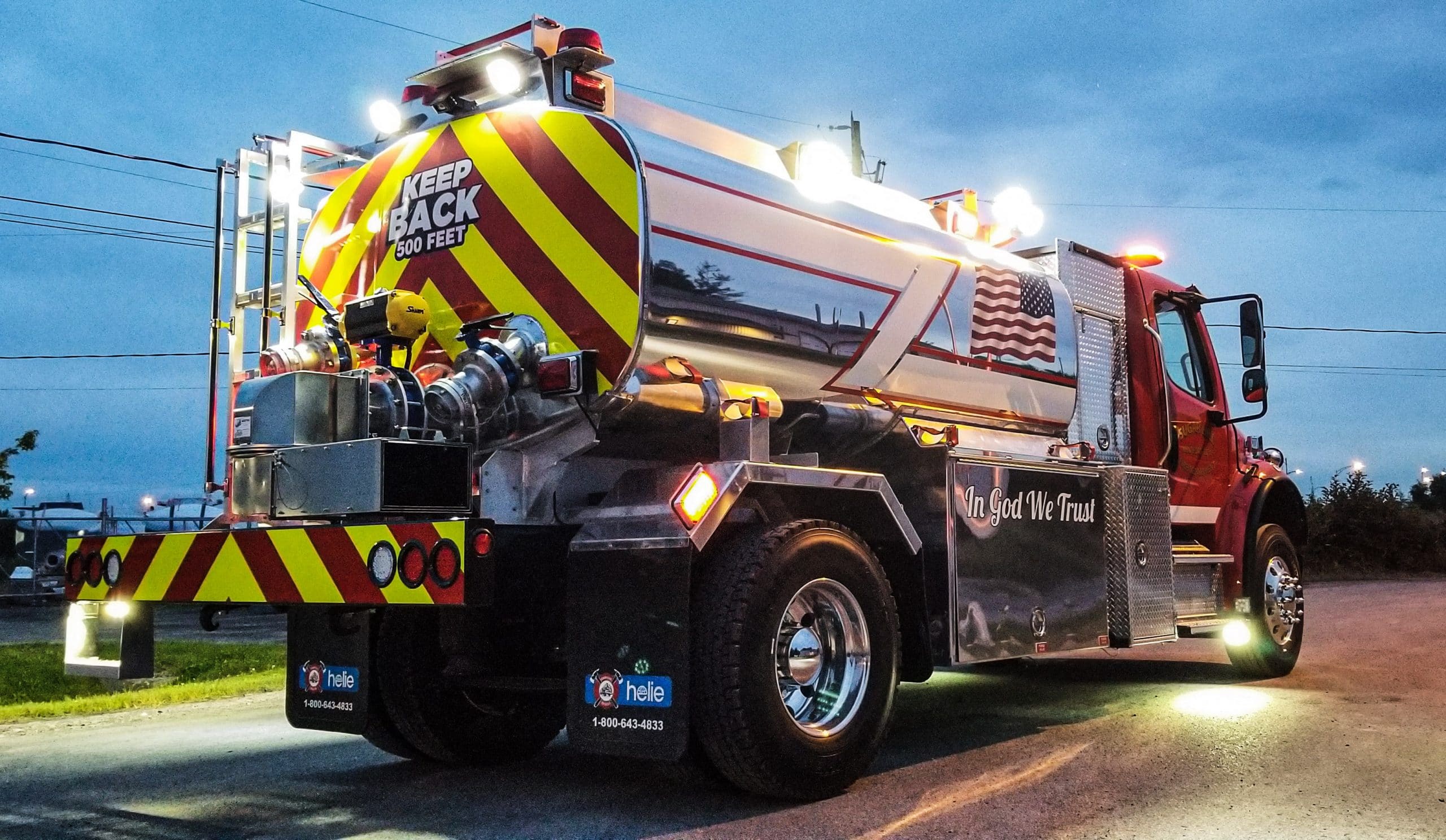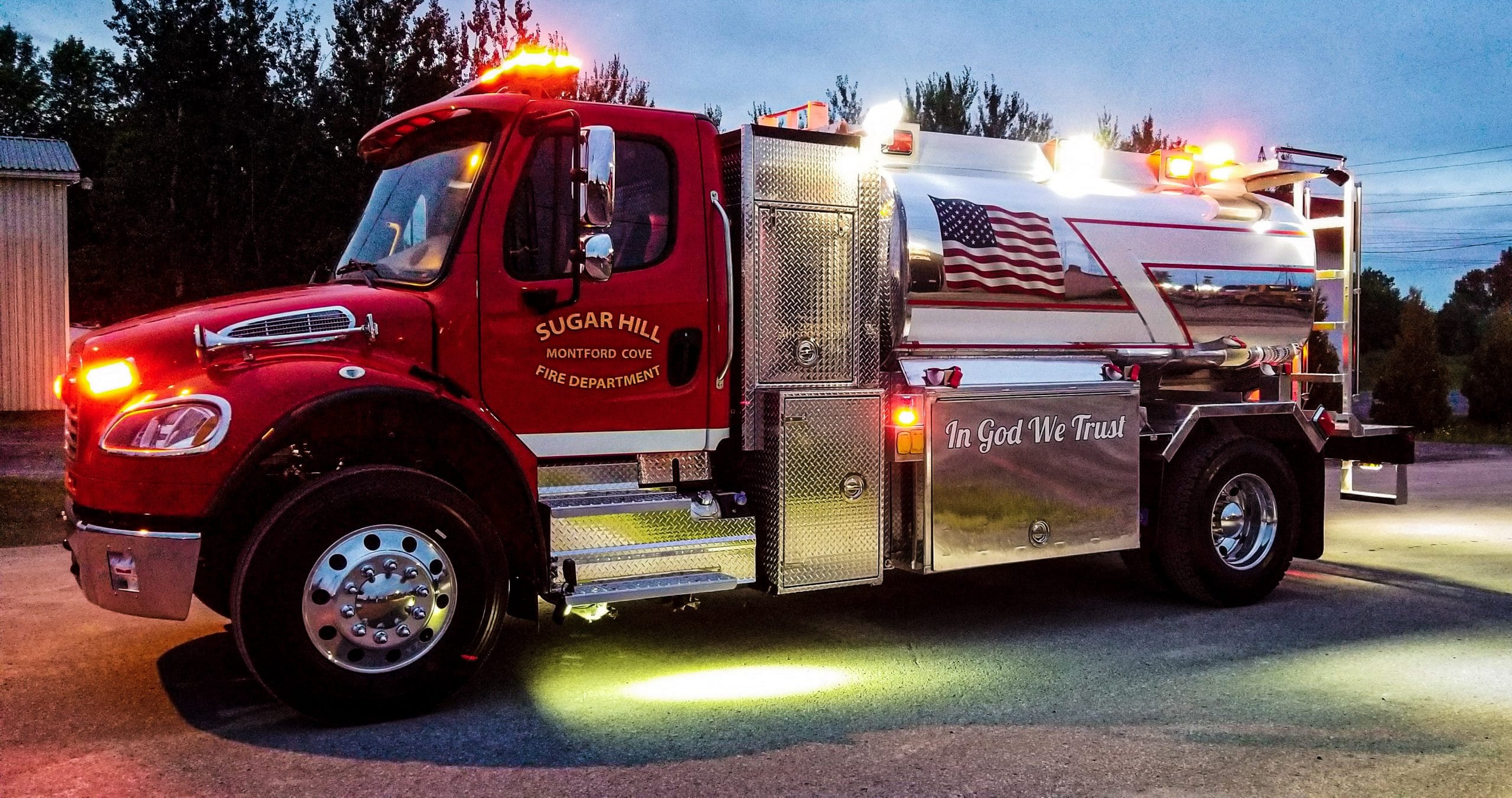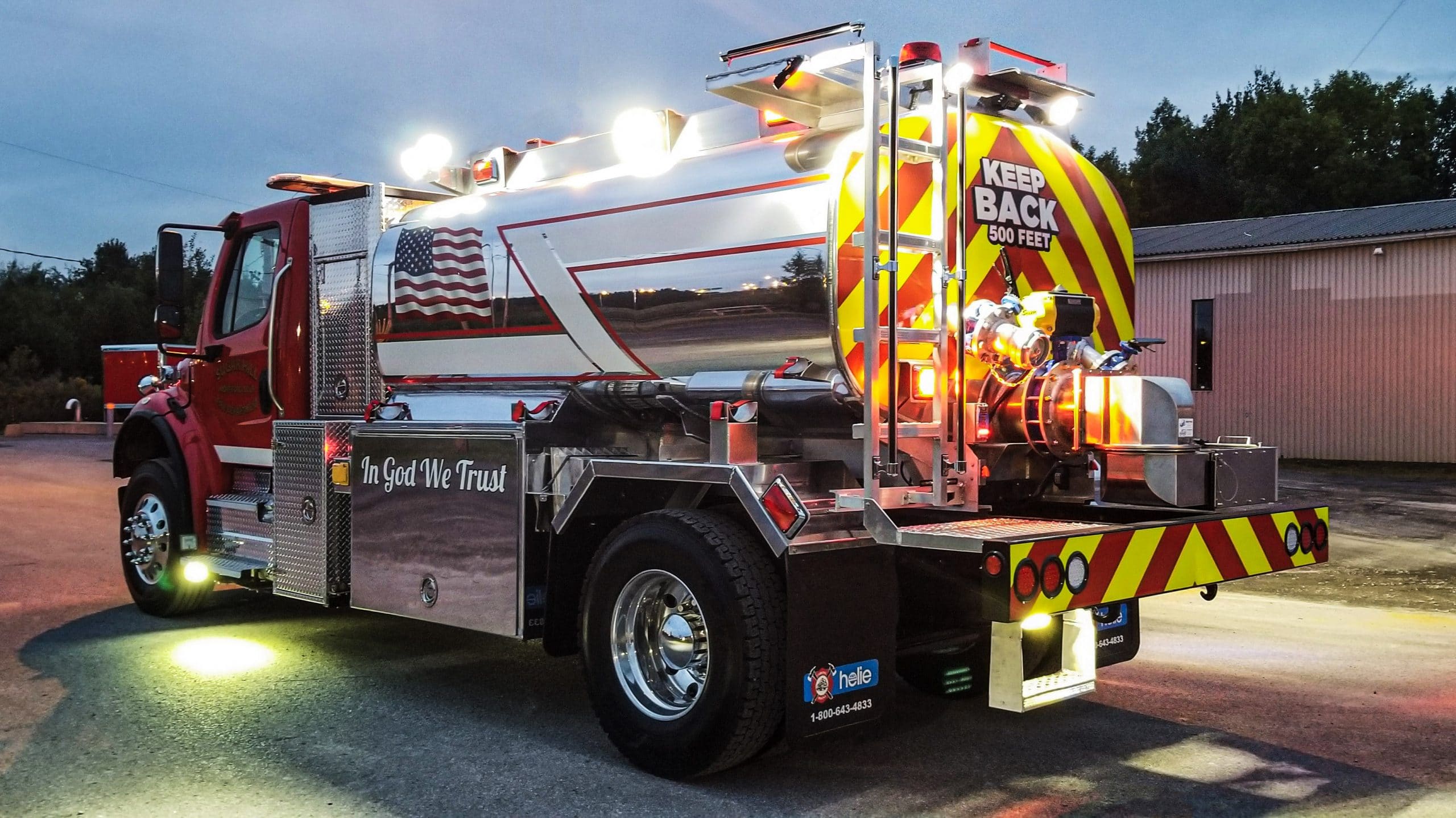 ---
TOP OF TANK BODY
One (1) 20″ manhole
One (1) 20″ manhole
One(1) 10" inspection-filling cover
One (1) anode
One (1) vent
Two (2) drains
Two (2) lift hooks
Custom
trucks
Emergency
Units
Emergency units
Command Post
Tanker
trucks
Single axle truck
Municipal financing
available